Summer is the perfect time to experiment with fresh and healthy produce, and zucchini is one of the most versatile vegetables. Whether you've got a backyard garden overflowing with zucchinis or picked some up from the grocery store, we've got some creative ideas for incorporating this nutritious veggie into your meals. From savory dinners to sweet treats, read on for our favorite things to make with zucchini.
Better Homes and Gardens has a great recipe section on its website. Check out this recipe for Zucchini-Sausage Casserole.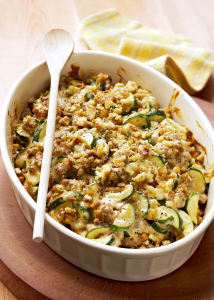 Ingredients
Nonstick cooking spray
12 ounce uncooked turkey sausage
4 medium zucchini (2 pounds total)
1 10.75 ounce can reduced-fat and reduced-sodium condensed cream of chicken soup
1 8 ounce carton light sour cream
4 cup herb-seasoned stuffing mix
½ cup reduced-sodium chicken broth
2 tablespoon butter, melted
Directions
Preheat oven to 350°F. Lightly coat a 3-quart baking dish with cooking spray; set aside. In a 12-inch skillet, cook sausage over medium heat until brown. Drain off fat. Return sausage to skillet.
Meanwhile, halve zucchini lengthwise; cut crosswise into 1/4-inch pieces. Add zucchini to sausage in skillet. Cover and cook over medium heat for 2 minutes; remove from heat. In a small bowl, combine soup and sour cream; stir into sausage mixture. In a large bowl, combine stuffing mix and broth to moisten.
Spoon half of the stuffing mixture into the prepared baking dish. Spread sausage mixture over stuffing in the dish. Spoon the remaining stuffing mixture evenly over the sausage mixture. Drizzle with butter. Bake, covered for 15 minutes. Uncover and bake for 20 minutes or until heated through and the top is golden.
5 Easy Recipes to Make with Zucchini
1) Zucchini Fritters – Zucchini fritters make for a satisfying and easy-to-make snack or side dish. You only need grated zucchini, breadcrumbs, eggs, and your favorite spices to create this delicious treat. Fry the bite-sized fritters in oil until golden brown and serve with a dollop of sour cream for extra flavor. Zucchini fritters are a fun and crispy alternative to traditional potato pancakes. You can add chopped herbs like dill or parsley for extra flavor.
2) Zucchini Lasagna – For a filling and flavorful main course, try a veggie-packed zucchini lasagna. Layer thin slices of zucchini with ricotta cheese, tomato sauce, and your favorite herbs for an Italian-inspired dish that will wow the whole family.
3) Baked Zucchini Chips – Swap out greasy potato chips for healthier baked zucchini chips! All you need is zucchini, olive oil, a sprinkle of salt, and an oven. Bake the chips at 375 degrees for approximately 20 minutes and enjoy a crunchy snack without all the added grease.
4) Stuffed Zucchini Boats – Zucchini boats are a fun and creative way to use your surplus of zucchini. Cut them in half lengthwise, scoop out the flesh, and then stuff them with a tasty filling like ground beef, rice, and cheese. Bake them in the oven until the cheese melts and is bubbly for a satisfying and comforting meal.
5) Zucchini Bread– Zucchini bread is an excellent choice if you're looking for a healthy sweet treat. This moist and flavorful bread has a beautiful texture that will have you returning for more. Mix grated zucchini with flour, sugar, baking soda, and other seasonings to make it. Pour the batter into a bread pan and bake for 60 minutes or until fully cooked. Slice and enjoy as a healthy snack or dessert.
Better Homes and Gardens has a few Zucchini Bread recipes on its website.
These five zucchini recipes are just a few of the many delicious ways to use this versatile vegetable. With a bit of creativity and these helpful tips, you can create tasty dishes that satisfy even the pickiest eaters. Enjoy!
Better Homes and Gardens BloomTree Realty in downtown Prescott is the area expert on real estate. Call the office at 928-443-8800 for information on real estate in the Prescott, Arizona, area.