If you're hosting an open house, you'll want to ensure you have some food available. Here are ten open-house food ideas that will make your open-house a success:
1. Finger foods. Finger foods are always a hit at any party, and an open house is no exception. Consider offering some bite-sized appetizers that your guests can quickly grab and go.
2. Fresh fruit. Fresh fruit is a great way to ensure your guests have something healthy to nibble on.
3. Veggies and dip. Veggies and dip are another healthy option that your guests will love. Offer a variety of chopped veggies, along with a variety of dips.
4. Cheese and crackers. Cheese and crackers is another classic open-house food option your guests will love. Be sure to offer a variety of cheeses, as well as some gluten-free crackers for those with dietary restrictions.
5. Sandwiches. Sandwiches are always a good option if you want to offer something a little more substantial. You can make them beforehand or set everything up so your guests can build their own.
6. Soup. Soup is another excellent option for an open house, especially if it's chilly outside. Set up a crockpot with your favorite soup and let your guests help themselves.
7. Chili. Chili is another great option for an open house, especially if you're expecting many people. Set up a crockpot with your chili and let your guests help themselves.
8. Dessert. No open house is complete without some dessert! Offer your guests a variety of cookies, brownies, or other sweets.
9. Coffee and tea. Make sure you have coffee and tea and some sugar and milk available for your guests if they want it.
10. Water. Remember the most important beverage of all: water! Be sure to have plenty of water for your guests to stay hydrated.
By following these open-house food ideas, you're sure to make your open-house a success!
Selling homes is my specialty! When you are ready to sell, call me, and together, we can make your home sale a smooth and successful process!
Better Homes and Gardens is a fantastic resource for recipes. Use these articles to inspire you for creative food for you next open-house.
---
Sugared Bacon-Wrapped Smokies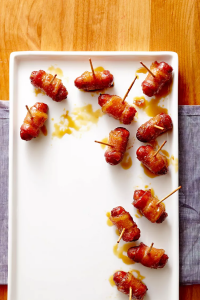 These bacon-wrapped smokies will disappear from your party spread in a flash. A coating of brown sugar before baking ensures that each of these little smokies has the perfect sweet and savory flavor combo.
Ingredients
Nonstick cooking spray

1 16 ounce package small cooked smoked sausage links

15 slices bacon, each cut crosswise into thirds

¾ cup packed brown sugar
Directions
Preheat oven to 350 degrees F. Line a 15x10x1-inch baking pan with foil; lightly coat with cooking spray. Set aside.

Wrap each sausage link with a bacon piece, overlapping the bacon piece at the end. Press the end of the bacon piece to seal or secure it with a wooden toothpick.

Place brown sugar in a large plastic storage bag. Add several bacon-wrapped sausages to bag and seal. Shake bag gently to coat sausages with brown sugar; place sausages in prepared pan. Repeat with remaining bacon-wrapped sausages and brown sugar.

Bake about 30 minutes or until the bacon is browned. Serve immediately. Makes about 45 appetizers.
Tips
Prepare as directed through step 3. Cover and store in the refrigerator for up to 24 hours. To serve, uncover and bake as directed in step 4.
---

(928) 443-8800