The 4th of July is a time for family, friends, and fireworks. And what better way to celebrate this festive holiday than hosting a cookout with some delicious and easy-to-make dishes? Whether hosting a large gathering or having a small get-together with some close friends, here are some great food ideas for your 4th of July party that will wow your guests and leave them wanting more!
Grilled Burgers, Hot Dogs, and Chicken Breasts
Burgers and hot dogs are classics for 4th of July cookouts. But remember the simplicity and tastiness of grilled chicken! They're easy to make, everyone loves them, and they're perfect for outdoor gatherings. You can make the patties ahead of time and store them in the fridge until it's time to grill. Add your favorite toppings like lettuce, tomato, cheese, and condiments to create a delicious burger or chicken sandwich.
>> How to Grill Chicken to Juicy Perfection This Summer
Potato Salad
A 4th of July cookout is complete when potato salad is on the menu. This classic dish is a favorite among many and can be prepped beforehand. Check out this recipe for the Better Homes and Gardens Potato Salad recipe. Simply delicious!
>> Classic Potato Salad Recipe
Watermelon Salad
Watermelon is a summer fruit that most everyone loves. And when watermelon is combined with feta cheese, mint leaves, and balsamic vinegar, it creates a refreshing and delicious salad. Cut the watermelon into small cubes, crumble the feta cheese, chop some mint leaves, and toss everything together with a drizzle of balsamic vinegar. Your guests will thank you for this sweet and tangy dish.
>>  Watermelon and Strawberry Lemonade
Grilled Corn on the Cob
Corn on the cob is another classic perfect for a 4th of July cookout. Grilling corn gives it a smoky flavor that makes it even more delicious. Better Homes and Gardens has a simple recipe for Grilled Corn on the Cob with Herbs that will be sure to impress your guests.
>> Grilled Corn on the Cob with Herbs Recipe
Patriotic Desserts
No party is complete without desserts, and what better time than the 4th of July to make some patriotic sweets? You can create red, white, and blue cupcakes, a flag cake, or patriotic fruit skewers with strawberries, blueberries, and marshmallows. Get creative with your desserts and have some fun!
>> Check out these recipes for patriotic desserts: 43 Fourth of July Desserts that Will Make Your Holiday Sparkle
Prescott 4th of July Events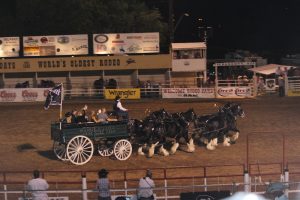 If you are in the Prescott, Arizona, area during the 4th of July, you are in for a treat. Prescott loves celebrating the 4th of July!
World's Oldest Rodeo
JUNE 28 – JULY 4, 2023
Since 1888, Prescott Frontier Days®, Inc. has presented the annual World's Oldest Rodeo® at the Prescott Rodeo Grounds. For 2023, the rodeo is Wednesday, June 28th through Tuesday, July 4th. Join us to see your favorite events, including steer wrestling, bareback riding, tie-down roping, women's breakaway roping, saddle bronc riding, team roping, women's barrel racing, bull riding, and other great entertainment!
4th of July Rodeo Parade
JULY 1, 2023 | AT 9:00AM
The Prescott Frontier Days® – World's Oldest Rodeo® proudly presents the 136th Annual Rodeo Parade held in downtown Prescott over the 4th of July weekend! This year's rodeo theme is "Dances With Bulls", celebrating the skill of the rodeo bullfighter (sometimes mistaken for rodeo clowns)!
The Rodeo Parade is a time-honored tradition celebrating our rich western history in Prescott, Arizona! We hope you will join us and help celebrate this fantastic tradition!
>> worldsoldestrodeo.com/rodeo-parade/
---
BloomTree Realty
While in downtown Prescott, stop by our BloomTree Real Estate office at 102 W Gurley Street #102 – we would love to tell you more about everything Prescott offers!  (928) 443-8800