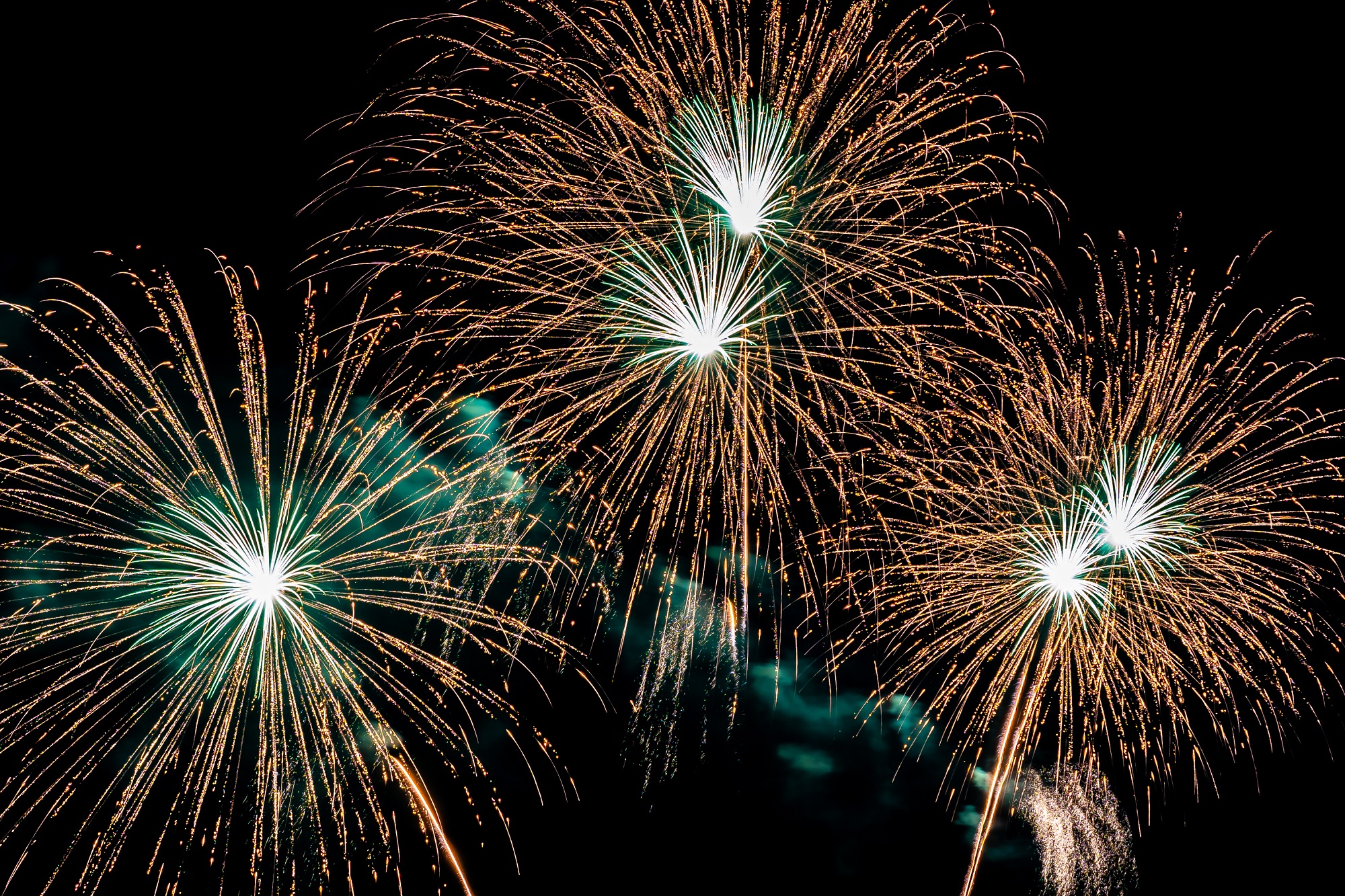 Happy New Year! We at Better Homes and Gardens Real Estate | BloomTree Realty thank you for entrusting us with helping you purchase or sell your home. It's been an incredible year, and we are grateful for the opportunity to have been part of so many real estate transactions.
Better Homes and Gardens Real Estate | BloomTree Realty is an impact-driven brokerage on a mission to deliver the best service to our clients, to energize and elevate our agents with unmatched insight and training, and to support important causes in the communities we serve. In short, we work together to be better and to give back.
12th Annual Whiskey Row Boot Drop
Join us on Whiskey Row in Prescott, AZ, to experience the awe-inspiring New Year's Eve Boot Drop! This signature tradition draws a multitude of people and is a perfect way to celebrate the start of 2023.
The 12th Annual Whiskey Row Boot Drop features a 6-foot illuminated cowboy boot, which will be lowered from a 40-foot flagpole on the top of the historic Palace building in downtown Prescott. There will be two drops, the first at 10 pm and the second at midnight. Both Whiskey Row Boot Drops will feature fireworks to mark the celebration! The drop at 10 pm will simultaneously drop with the "ball drop" in New York!
"This year's entertainment will be with the lively band The Pickup Lines who will perform your favorite covers throughout the night. They have been entertaining in Phoenix and nationwide for years and are the most diverse party band in Arizona!" ~ bootdrop.com
This is a free event filled with music, fireworks, food, and fun!
The Raven Cafe's NYE Party with Santa Pachita
"Come to the hottest NYE party in downtown Prescott! Santa Pachita, considered a Latin fusion band, has been playing together since 2012. Guitarist Miguel Reyes and bass player Victor Cruz started the band after working on other musical projects. They brought in talented musicians from a variety of different musical backgrounds. The result is a danceable fusion of ska, cumbia, and rumba-salsa. The congas, flute, and trumpet add depth to the energetic music influenced by bands like Manu Chao." ~ SignalsAZ.com
Prescott Valley New Year's Eve Celebration and Fireworks – Dec 31st
"Join us for a spectacular New Year's Eve celebration on December 31st from 7-midnight at the Findlay Toyota Center parking lot. Games, hot chocolate, s'mores, and a big bonfire! Fireworks at 8:30 pm and at midnight! Please leave your pets at home for their safety." ~ SignalsAZ.com
We hope you have a safe and wonderful New Year's Eve in Prescott! From all of us at Better Homes and Gardens Real Estate | BloomTree Realty, we wish you a happy start to 2023. May it be an incredible year for you and yours! Cheers!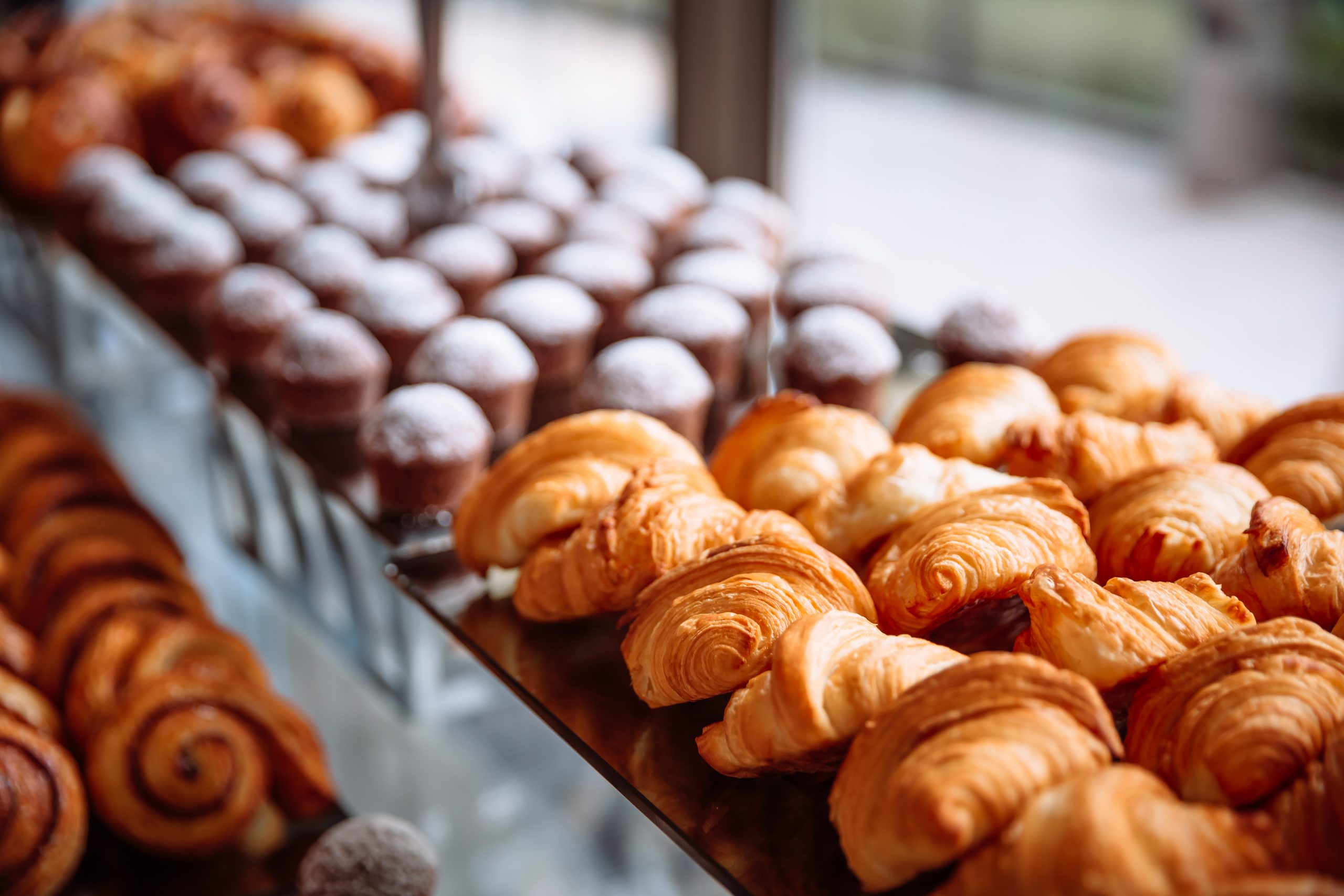 Award Winning Prescott Bakeries
Prescott, Arizona, is home to some of the finest bakeries in the country. Whether you live here or are just visiting, it's worth taking time out of your day to explore what these local spots have to offer. With each bakery boasting something different – from specialty baked goods and cakes for any occasion – there's something for everyone in Prescott! So, get ready for a sugar-filled visit as we journey through some of the top bakeries around town that will make even the pickiest sweet tooth happy.
---
Olde World Bakery
220 West Goodwin St. Suite 1, Prescott
(928) 237-3695
Family-owned bakery that specializes in pastries, sandwiches, soups and salads. Olde World Bakery does not have a fryer. We forego the donut fad to offer delicate, flaky croissants, giant cinnamon rolls, hearty muffins, buttery golden scones, coconut macaroons, and cookies galore. Also in our repertoire: strudels, cupcakes, pies, bars and various other treats, both sweet and savory offered throughout the year. Come have lunch and a treat paired with Prescott-local coffee and enjoy our free wifi in our large, comfortable sitting area or our gorgeous (dog friendly) patio!
"Friendly, Fast, Delicious! Wow! First visit and I'm blown away by this wonderfully quaint bakery. I ordered the Tuna Melt, but sans having it melted. The flavors are amazing. My taste buds are so happy. The sandwich is huge, enough for two people. Daniel, owner is super friendly and helpful. Please support this local bakery. Small indoor dining area and nice outside patio with umbrellas. Parking garage right next door. Great location, walking distance to everything in town in Prescott." — Google Review
---
The Prescott Breadery
713 West Rosser St, Prescott
(928) 927-6715
We bake to order just for you! We are your Personal Bakers! You text or call in to let us know what you would like, what time and day you would like to pick up or have your yumminess delivered. We bake 7 day a week. Same day orders are welcome! We bake from our home at 713 West Rosser Street in Prescott and are licensed by the State as a Cottage Industry business through the Home Baked Goods Program and follow all applicable laws and regulations. We bake to order so your goodies are fresh from the oven, Breads, Cinnamon Rolls and Scones are most often hot or at minimum still warm when you pick up! We are not a storefront so please call ahead, text or PM The Prescott Breadery on Facebook. You are welcome to drop by to get a paper menu also. We welcome all orders! Large and small events too! Weddings, Birthdays any occasion or dessert for a dinner party!
 "I ordered a custom cake and only showed a photo from one I saw on Pinterest. It was done perfectly. The inside was marble swirl cake with a coffee filling. Moist and beautiful. I also ordered some blueberry and maple scones. Those were DELICIOUS!!! Husband and wife who bake out of there home. This is the only bakery I will use in Prescott. Hands down." – Norma Harding
---
Berry's Pie Pantry
230 N Virginia St Prescott
(928) 778-0511
Rustic eatery serving old-school American comfort mains & desserts, including breakfast. 16 Varieties of Home Made Pie, Home Cooked Meals Made From Scratch Daily .
Established in 1986, Berry's Pie Pantry is located at 230 N Virginia St in Prescott, AZ – Yavapai County and is a business specialized in American, American Food and American Restaurant. Berry's Pie Pantry is listed in the categories Bakeries, Bakers, Restaurants, Retail Bakeries, Eating Places, Full-Service Restaurants, Limited-Service Restaurants and Restaurants/Food & Dining and offers Luncheon, BREAKFAST & LUNCH, Salads, Sandwiches, Soups, Ensalada, Insalata, Pies, OMELET etc. After you do business with Berry's Pie Pantry, please leave a review to help other people and improve hubbiz. Also, don't forget to mention Hubbiz to Berry's Pie Pantry.
"I didn't get any pictures before I ate the pie…but dang!!! That pie was awesome!! Was my first time there and got there later in the day so the options were limited. I really wanted to try the rhubarb pie, but it was out. I got Dutch apple pie and regular apple pie and both were AMAZING! Highly recommended if you love pie."  — Vincent
---
Flour Stone Bakery
2992 N. Park Ave., Suite C
Prescott Valley, Arizona 86314
Monday Closed
Tuesday – Saturday 7:00 am – 3:00 pm
Sunday Closed
Flour Stone Bakery and Cafe is owned and operated by Igal Blumstein and his two sons. Igal has been working in a bakery since he was 14 years old in Connecticut. The baked pastries and bread are prepared daily without preservatives. Igal's 6 Braided Challah Bread is made fresh every Friday. You can enjoy Breakfast, Lunch, and Dessert in the entertainment district of Prescott Valley, Arizona. We are conveniently located at 2992 Park Avenue Suite C (near Harkins Theater). Come out and visit us today!
"Excellent service. Got just what I wanted for my baby's first birthday! Kim is just excellent!" – Pragati Pradhan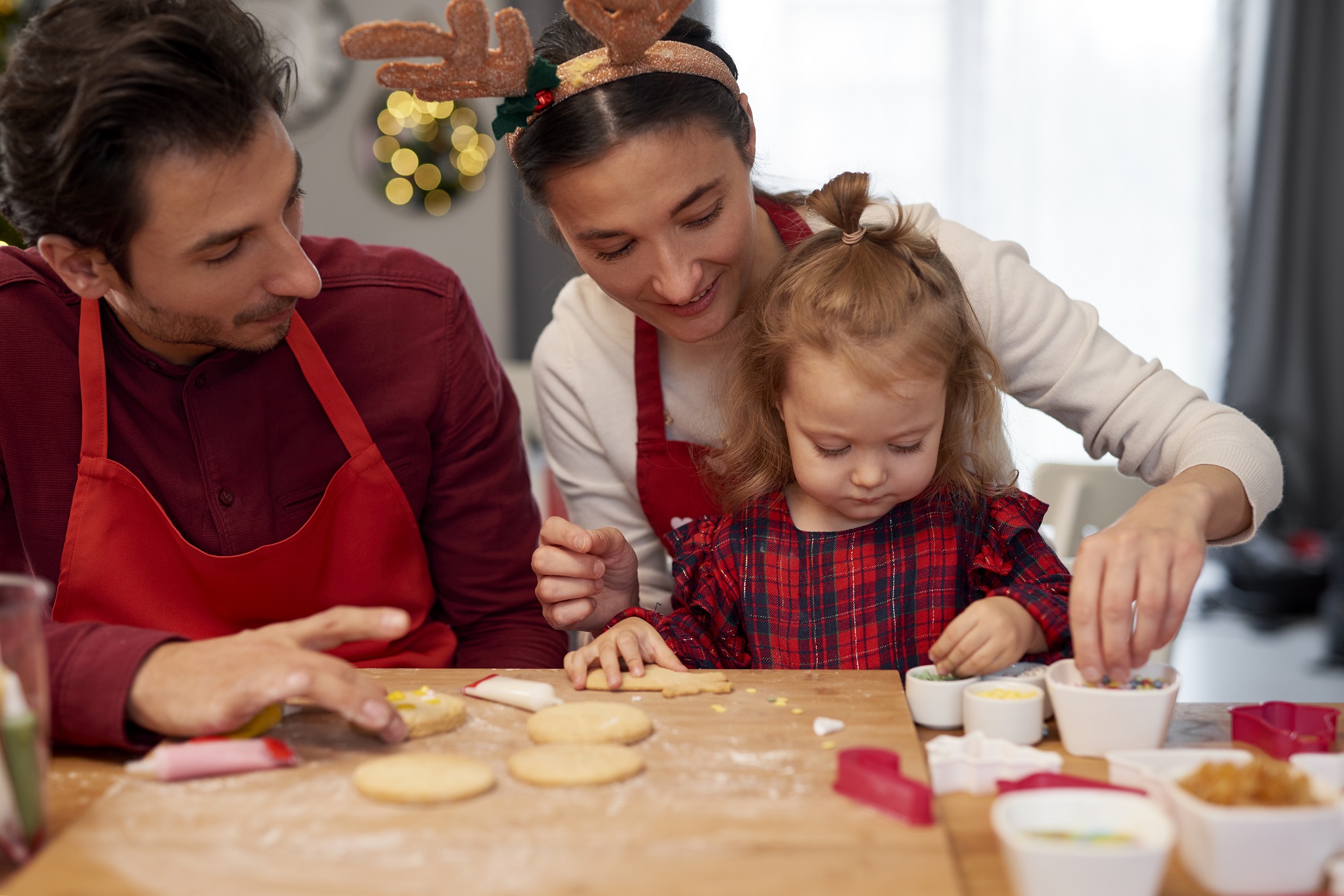 Christmas is coming, which means it's time for family, friends, and of course, lots and lots of delicious food! If you're looking for some sweet treats to make your holiday special, we've got you covered. Here are our favorite Christmas desserts recipes! Enjoy!
Recipe Source: Bhg.com
---
Ingredients
1 ½

 

cup

 

graham cracker crumbs

2

 

tablespoon

 

granulated sugar

¼

 

cup

 

butter, melted

4

 

large

 

Granny Smith apples

⅓

 

cup

 

packed brown sugar

2

 

tablespoon

 

butter

3

 

8 ounce packages

 

cream cheese, softened

1 ½

 

cup

 

granulated sugar

1

 

teaspoon

 

apple pie spice

½

 

cup

 

unsweetened applesauce

2

 

tablespoon

 

lemon juice

3

 

eggs

⅔

 

cup

 

heavy cream

1

 

tablespoon

 

butter

⅓

 

cup

 

coarsely chopped toasted pecans
Directions
Preheat oven to 350°F. Grease a 9-inch springform pan. Place pan on a double layer of 18×12-inch heavy-duty foil. Bring edges of foil up and mold around outside of pan to form a watertight seal. For crust, combine crumbs and 2 Tbsp. sugar. Stir in 1/4 cup melted butter; toss gently. Press onto bottom and 1 inch up sides of prepared pan. Bake about 10 minutes or until edges begin to brown. Cool slightly on a wire rack.

Peel and core apples. Cut into 1/2-inch-thick wedges. Toss together apples and 1/3 cup brown sugar. In a large skillet, melt 2 Tbsp. butter over medium-high. Add apples and cook 6 to 8 minutes or until tender and golden and sugar is melted and bubbly, stirring occasionally. Cool completely (about 30 minutes).

For filling, in a large bowl combine cream cheese, 1 cup of the sugar, and apple pie spice. Beat until fluffy. Beat in applesauce and lemon juice. Beat in eggs until combined.

Pour filling into crust in pan. Arrange apples over filling. Place springform pan in a roasting pan. Add boiling water to pan to reach halfway up sides of springform pan. Bake until top is lightly browned and cheesecake is set around edges but still jiggly in middle, 1 hour to 1 hour and 15 minutes. Remove cheesecake from water bath, and transfer to a wire rack to cool completely, about 2 hours. Chill at least 4 or up to 24 hours.

For sauce, in a small heavy saucepan melt the remaining 1/2 cup sugar over medium-high until sugar begins to melt, shaking pan often (do not stir). Reduce heat; cook about 5 minutes more or until sugar is melted and golden. Stir as necessary after sugar begins to melt (only when mixture bubbles). Remove from heat. Carefully pour in 1/2 cup heavy cream. Add the 1 Tbsp. butter. Return to heat. The sugar may form lumps. Cook and stir 1 to 2 minutes more or until melted again and smooth. Stir in 1/3 cup coarsely chopped pecans. Cool. Cover and chill up to 24 hours. To serve, cut cheesecake into wedges; top with sauce.
---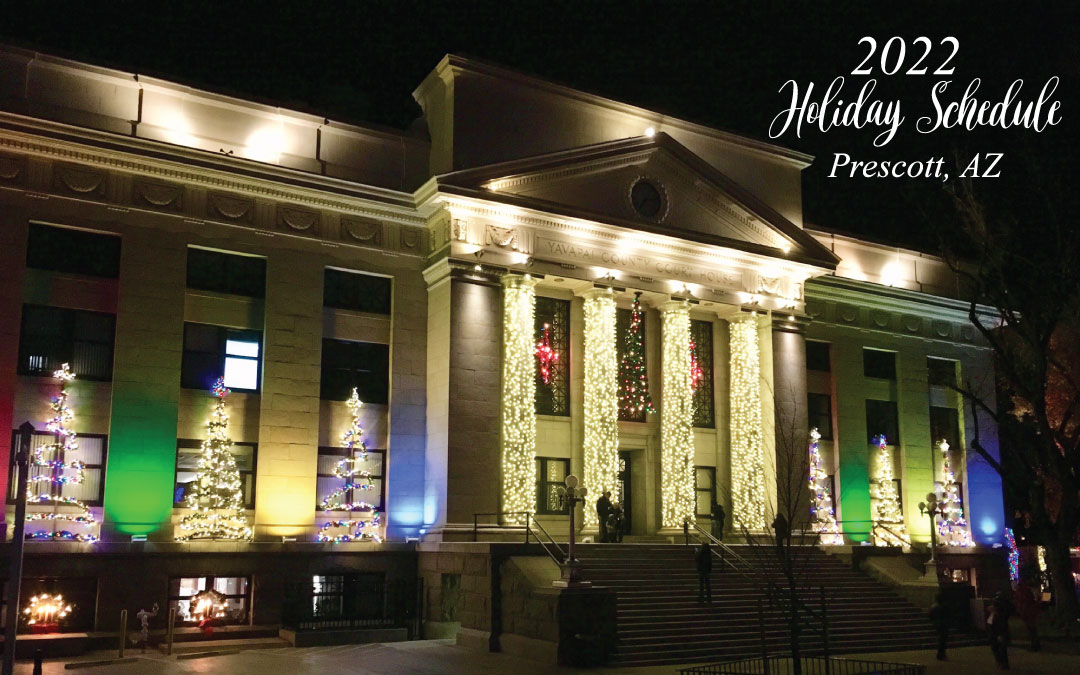 Looking for something to do this Christmas season? Plan your visit and celebrate Christmas the Arizona way, in Prescott! Prescott has a variety of events and activities to enjoy! From tree lighting and parades to concerts and performances, there is sure to be something that appeals to everyone.
Fun Fact: In 1989, then Governor, Rose Mofford, designated Prescott as Arizona's Christmas City.
2022 Christmas Events
---
30th Annual Gingerbread Village
Friday, November 25, 2022 – Sunday, January 1, 2023
Prescott Resort & Conference Center
1500 E. State Rte. 69
Prescott, AZ 86301
Open 24/7
The Prescott Resort & Conference Center invites you to join us for the 30th Annual Gingerbread Village. Get in the holiday spirit this year and make plans now with your co-workers, family and friends and build a cottage, a bungalow or estate! Applications are now being accepted! Proceeds benefit Hungry Kids project in Prescott. Please email kshenry@gracehospitality.com or shenry@gracehospitality.com for all the details. Information at 928-776-1666
---
68th Annual Courthouse Lighting
Saturday, December 3, 2022
6:00 pm – 6:30 pm
Yavapai County Courthouse Plaza
120 S. Cortez St.
Prescott, AZ 86303
This time-honored tradition is the must-see event of the year. Music starts at 5:30 pm / Ceremony will be @ 6 pm, followed by Courthouse Lighting!
More Information www.prescott.org or 928-445-2000
---
Valley of Lights 2022
November 25, 2022 through December 30, 2022
Sunday – Thursday 6:00 pm – 9:00 pm
Friday, Saturday and Holidays 6:00 pm -10:00 pm.
Fain Park
2200 N 5th St
Prescott Valley, AZ 86314
Drive through the one-mile displays of holiday lights.
Valley of Lights opens on Thanksgiving night and is open every night through December 30
---
Festival of Trees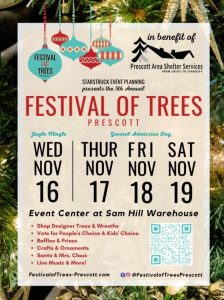 ---
Christmas Holiday Lights Parade and Courthouse Lighting
Saturday, December 3, 2022
Since 1982. Prescott's Annual Holiday Light Parade will be rolling around the streets of downtown Prescott. Colorful lights and Christmas music will illuminate all floats and entries. From high school bands and bicycles to elaborate incandescent floats. Santa Claus may surprise us too! Bundle up with coats, scarves, and gloves and enjoy the kick-off Holiday event in Arizona's Christmas City.
Courthouse Plaza
100 West Gurley Street
Prescott, AZ 86301
3 pm-5 pm, Lighting Event takes place after the parade
http://www.prescott.org
---
Acker Night
December 9th 2022
Opening Ceremony 5 pm
Acker Night 5:30 – 8:30
What is Acker Night?
This is a FREE downtown event for everyone. The streets in downtown Prescott are closed and the businesses open their doors for a few hours for this wonderful evening event. The Christmas lights are gleaming and music fills the air for this special time.
All the "tips for Scholarships" donations go to Yavapai County school age children for music lessons to those that may not otherwise get that chance. Depending on how much is donated year to year, we also donate to our school district's music department since the arts are the first to get budget cuts. We also with donations permitting, have repaired local school music departments, sent special musicians and groups on to bigger competitions and have purchased or given instruments for those in need.
---
Let the Season Begin!
Start the season with your favorite holiday carols performed in festive, grand style! Join the Yavapai College combined choral ensembles, guest soloist Sarah Smith, a full orchestra, and Prescott's own High Desert Ringers as they bring joy and musical mastery to the sounds of the season. A holiday treat the whole family will love!
Fri, December 2 | 7 pm
Sat, December 3 | 3 pm
Tickets
Sarah Smith, soprano
Sarah Smith holds a Master of Music from Arizona State University and a Bachelor of Music from the University of Nebraska-Lincoln. Making her professional debut in Arizona as a concert soloist with the Phoenix Symphony in 2010, Sarah most recently performed as the soprano soloist in Brahms's Ein Deutsches Requiem with the Arizona Philharmonic in January 2022; held the role of "Cinderella" in Sondheim's Into the Woods at Desert Stages Theater in Scottsdale in 2021; and was the soprano soloist in Carl Orff's Carmina Burana with the Symphony of the Southwest at Mesa Arts Center in 2019. Sarah has also been a featured soloist with the Arizona Musicfest, Arizona Bach Festival, Colorado New Music Ensemble, Classical Revolution Phoenix, and Concerts on the Desert at St. Barnabas.
---
Prescott is a great place to spend the holidays with plenty of events and activities to keep you busy. If you're looking for more information on what to do in Prescott, or need help getting around town, please don't hesitate to give us a call, we're happy to help! Have a Merry Christmas!

(928) 445-8000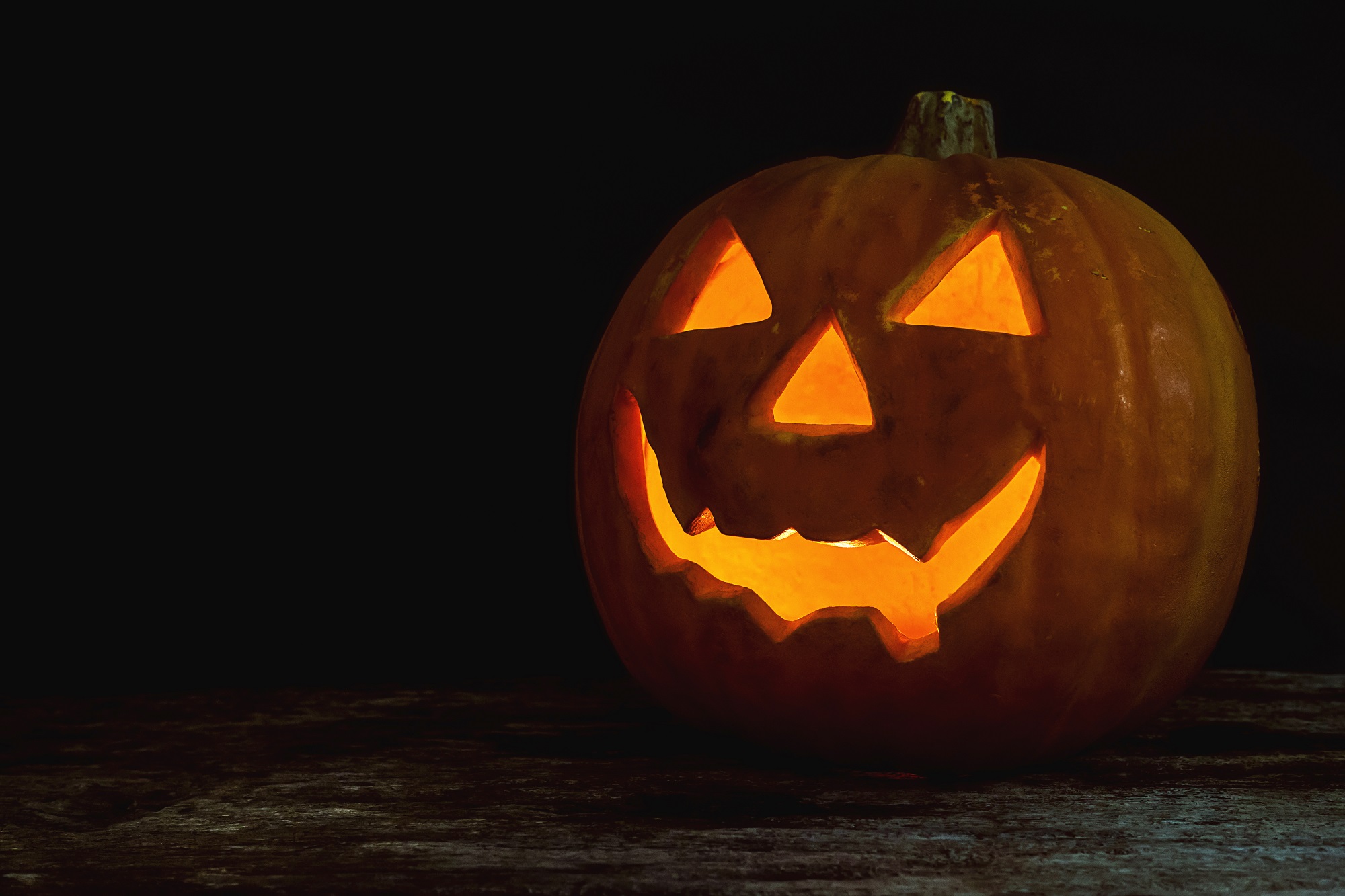 It's hard to believe, but Halloween is just a week away! It's that time of year again when goblins, ghouls, witches, and warlocks take to the streets searching for tricks or treats. Whether you're a child who can't wait to go trick-or-treating or an adult who loves carving pumpkins and dressing up, there's no doubt that this holiday is a lot of fun. If you plan to hit the streets and take your little ones trick-or-treating or plan to hand out candy at your door, it's essential to keep safety in mind this Halloween. Here are four tips to help make sure your holiday is a safe one.
Plan your route. If you're trick-or-treating with children, plan your route in advance. Choose a neighborhood that you're familiar with and stick to well-lit streets. Avoid shortcuts through dark alleys or wooded areas.
Stay together. It's important to stick together when you're out trick-or-treating. Don't let your children wander off on their own. If they want to go ahead, ensure you know where they are at all times. It's also a good idea to have a designated meeting spot in case anyone gets lost.
Wear reflective clothing. If you're going to be out after dark, it's important to wear reflective clothing or carry a flashlight. This will help drivers see you and avoid any accidents.
Inspect candy. This one is critical if you have young children. Before letting them eat any of their candy, go through it and check for anything that looks tampered with. Throw away any candy that's unwrapped or looks suspicious.
Following these tips will help ensure that your Halloween is a safe one.
Things to Do this Fall in Prescott
Now that we have covered safety, if your Halloween plans are still to-be-determined, here are a few fall events in the area:
As you can see, there are plenty of fun things to do this fall in Prescott. So get out there and enjoy the season! And remember to follow our safety tips to make sure your Halloween is a safe one. Thanks for reading!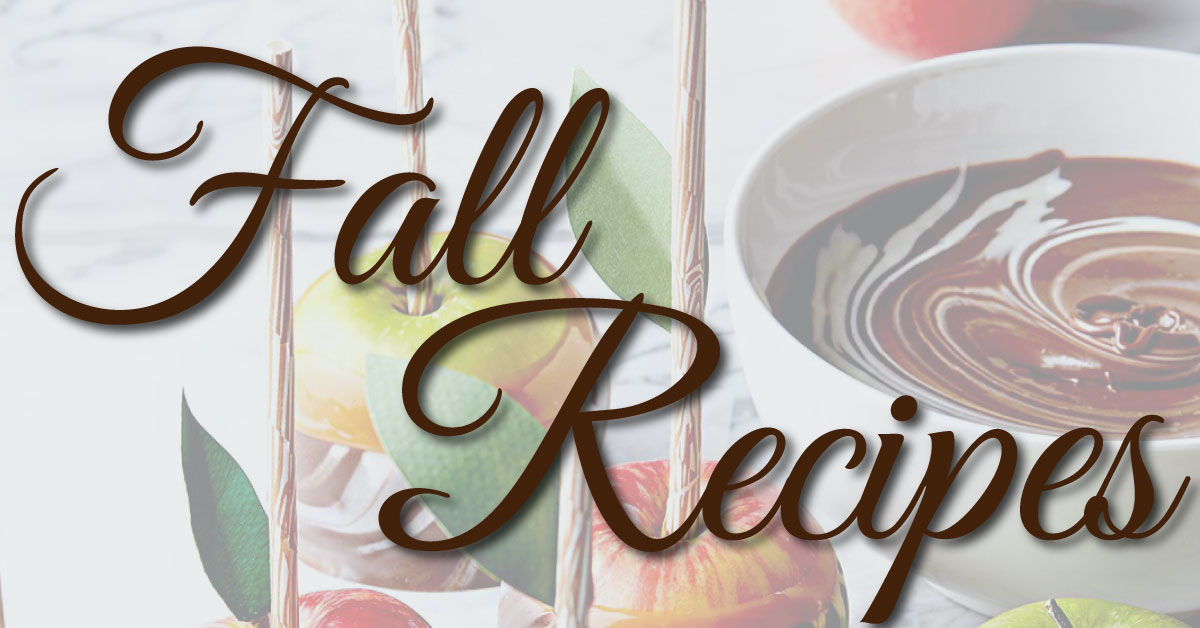 As the weather changes and the leaves start to turn, we cannot help but get excited for all things Fall. From pumpkin carving to cozy fireside nights, there's nothing like Fall in Prescott. To celebrate, we've put together a list of our favorite Fall recipes. So pull up a chair, gather your friends and family around the table, and dig in!
Recipe Source: Bhg.com
Pressure Cooker Chocolate-Cherry Bread Pudding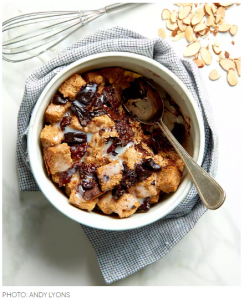 Bread pudding dessert are a perfect dessert idea for chilly nights and thanks to your pressure cooker, you can whip this one up with just 15 minutes of cook time. It's the cooling time that's torture, but the pressure cooker dessert is worth the wait.
Prep Time: 25 mins
Cook Time: 15 mins
Servings: 6
Ingredients
Nonstick cooking spray
1 cup fat-free milk
½ cup refrigerated or frozen egg product, thawed, or 2 eggs, lightly beaten
¼ cup granulated sugar
¼ teaspoon almond extract
⅛ teaspoon salt
3 cup dried whole wheat bread cubes*
2 ounce bittersweet chocolate, chopped
⅓ cup dried tart cherries
1 cup warm water
3 tablespoon powdered sugar
2 tablespoon low-fat Greek yogurt
3 tablespoon sliced almonds, toasted** (optional)
Directions
Lightly coat a 1-qt. round ceramaic or glass baking dish with cooking spray. Cut three double-thick, 18×3-inch heavy foil strips. Crisscross strips and place dish on top of crisscross. In a large bowl combine the next five ingredients (through salt). Stir in bread cubes, chocolate, and cherries. Pour into prepared dish; cover with foil.
Place a steam rack in a 6-qt. electric or stove-top pressure cooker. Add the warm water to pot. Use foil strips to lower dish to steam rack. Lock lid in place. Set an electric cooker on high to cook 15 minutes. For a stove-top cooker, bring up to pressure over medium-high heat; reduce heat enough to maintain a steady (but not excessive) pressure. Cook 15 minutes.
Remove from heat. For both models, let stand 15 minutes to release pressure. Release any remaining pressure. Use foil strips to lift dish out of cooker. Cool, uncovered, on a wire rack 30 minutes.
Meanwhile, for icing, in a bowl stir together powdered sugar and yogurt. Drizzle bread pudding with icing and, if desired, sprinkle with almonds.
* To make dried bread cubes, preheat oven to 300°F. Spread bread cubes in a single layer in a 15×10-inch baking pan. Bake 10 to 15 minutes or until dried, stirring twice; cool.
** To toast nuts, preheat oven to 350°F. Spread nuts in a shallow baking pan. Bake 5 to 10 minutes or until light brown, watching carefully and stirring once or twice.
---
Bread & Butter Pudding with Salted Caramel Whiskey Butter Sauce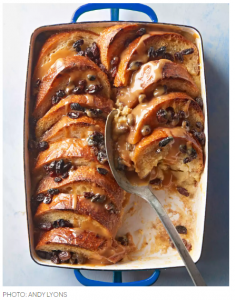 The sauce for this pudding is addictive. Pour any extra over ice cream to make an Irish sundae!
Hands On Time: 30 mins
Total Time: 3 hrs 10 mins
Servings: 12
Ingredients
⅔ cup raisins
½ cup Irish whiskey
5 eggs
2 cup whipping cream
1 cup sugar
½ teaspoon ground cinnamon
¼ teaspoon ground nutmeg
1 teaspoon vanilla
8 1-inch slices firm white bread (about 10 ounces) (crusts left on)
¾ cup unsalted butter, at room temperature
Salted Caramel Whiskey Butter Sauce
¼ cup unsalted butter, cubed
½ cup sugar
½ teaspoon sea salt
1 ¼ cup whipping cream
Directions
In a medium mixing bowl, combine the raisins and whiskey; let soak for 1 hour. Butter a 2-quart rectangular baking dish; set aside.
In a large bowl whisk together the eggs, cream, sugar, cinnamon, nutmeg, and vanilla. Generously spread one side of each slice of bread with the 3/4 cup butter. Cut the slices in half diagonally and arrange the bread in the bottom of the prepared baking dish, overlapping the slices. Drain the raisins, reserving the whiskey. Sprinkle raisins over the bread, tucking some between the bread slices. Pour the custard over the bread; cover with foil and let it soak in the refrigerator for 30 minutes.
Preheat the oven to 375°F. Place the baking dish in a large roasting pan. Add enough hot water to come halfway up the sides of the dish. Bake for 45 minutes or until the pudding is set and the top is golden (there will be a layer of melted butter over the pudding). Carefully remove the baking dish from the water bath and let cool slightly on a wire rack (the butter will soak back into the bread as it cools).
Meanwhile, for sauce, melt the butter in a 2-quart saucepan over medium heat. Whisk in the sugar, salt, cream, and 3 tablespoons of the reserved whiskey. Bring to boiling; reduce the heat, and simmer, uncovered, for 10 to 15 minutes or until the sauce thickens slightly, stirring frequently. Serve pudding warm with the sauce spooned over the top.
---
Marbled Caramel Apples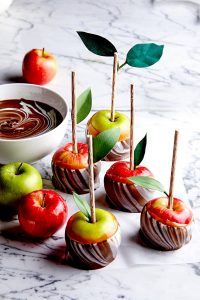 Take caramel apples up a notch with a triple dip in caramel, chocolate, and vanilla candy coating. The result is a stunning swirl effect to your dipped apple.
Hands On Time:  30 mins
Total Time:  2 hrs
Servings:  8
Ingredients
8 small apples (3 to 4 ounces each)
16 ounce vanilla caramels, unwrapped
1 ½ tablespoon heavy cream
12 ounce chocolate-flavor candy coating, chopped, or chocolate candy melts
8 ounce vanilla-flavor candy coating, chopped, or white candy melts
Directions
Line a large baking sheet with parchment paper. Insert candy apple sticks or skewers into stem ends of apples. Place caramels and cream in a microwave-safe 2-cup glass measuring cup. Microwave on 100% power (high) for 1 to 1 1/2 minutes or until smooth and flowing freely, stirring every 30 seconds. Dip apples into caramel mixture to coat, allowing excess to drip back into the cup. Place coated apples on prepared baking sheet. Let stand 1 hour or until set.
Place chocolate candy coating in a medium microwave-safe bowl. Microwave on 100% power (high) for 1 to 2 minutes or until coating is melted and smooth, stirring every 30 seconds. Repeat with vanilla candy coating. Transfer 3/4 of the chocolate candy coating to a microwave-safe 2-cup glass measuring cup. Place remaining chocolate candy coating in a small resealable plastic bag. Transfer all the vanilla candy coating to a resealable plastic bag. Snip a small hole in a corner of each bag.
Heavily drizzle white candy coating over chocolate candy coating in the 2-cup glass measuring cup, keeping lines going the same direction. Lightly drizzle chocolate candy coating over top of white drizzles, making lines perpendicular to white lines. Drizzle more white candy coating over top of chocolate drizzles, making lines perpendicular to previous layer. Dip a caramel apple half to two-thirds of the way into mixture. As you pull the apple up, twist it to swirl and marble the coating. Return apple to parchment. Scrape down sides of measuring cup, but do not stir. Repeat with remaining apples, re-doing drizzles on surface of candy coating between each apple. Let apples stand 30 minutes or until set. Makes 8 caramel apples.
---
Hazelnut-Mocha Sauce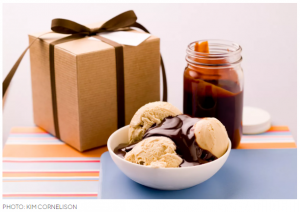 Spoon this rich chocolate sauce over ice cream and sprinkle with nuts if desired.
Prep Time: 15 mins
Cook Time: 8 mins
Total Time: 23 mins
Yield: 6 half-pint jars
Ingredients
1 12 ounce package semisweet chocolate pieces
1 13 ounce jar chocolate-hazelnut spread
1 12 ounce can evaporated milk
½ cup sugar
¾ cup coffee liqueur, such as Kahlua, or strong coffee
2 cup coarsely chopped toasted hazelnuts (optional)
Directions
In a large heavy saucepan melt chocolate pieces and chocolate-hazelnut spread over low heat, stirring occasionally. Add evaporated milk and sugar, stirring until smooth. Bring to boiling over medium-high heat, stirring constantly; reduce heat. Cook, uncovered, for 8 minutes, stirring frequently. Remove from heat and stir in coffee liqueur.
Spoon mixture into 6 clean half-pint jars, leaving 3/4-inch headspace; cover and refrigerate. Divide hazelnuts, if using, between 6 small plastic bags. Decorate jars and plastic bags. To serve, reheat sauce, spoon sauce over ice cream, fruit slices, or your desired dessert; sprinkle with nuts, if desired. Makes 6 half-pint jars.
---
S'mores Popcorn Balls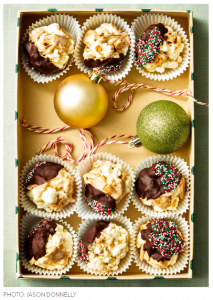 This campfire twist on the nostalgic popcorn ball recipe is perfect for gifting (and munching).
Prep Time: 25 mins
Stand Time: 30 mins
Total Time: 55 mins
Yield: 10 3-inch popcorn balls
Ingredients
¼ cup butter
1 10 ounce pkg. tiny marshmallows
½ teaspoon vanilla
1 3 ounce bag microwave kettle corn, prepared according to package directions (8 cups popped)
2 cup honey graham cereal
1 cup miniature semisweet chocolate chips (optional)
4 ounce semisweet chocolate, melted
Colored nonpareil sprinkles (optional)
Directions
In an 8-qt. pot melt butter over medium-low. Add marshmallows; stir constantly until melted and smooth. Remove from heat. Stir in vanilla. Add popcorn and cereal; fold until evenly coated. Let cool just until easy to handle.
Place chocolate chips in a shallow dish. With buttered hands, quickly shape popcorn mixture into ten 3-inch-diameter balls. If you like, roll balls in the chocolate chips and press firmly to adhere immediately after shaping.
Drizzle popcorn balls with melted chocolate or partially dip in melted chocolate. If you like, sprinkle with nonpareil sprinkles. Place balls on a sheet of waxed paper or silicone baking mat. Let stand until set.
To Store
Place popcorn balls in an airtight container; cover. Store at room temperature up to 3 days.
---
Pumpkin-Gingerbread Truffles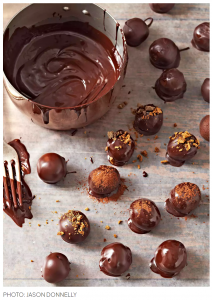 Prep Time: 45 mins
Chill Time: 2 hrs
Freeze Time: 15 mins
Total Time: 3 hrs
Yield: 30 truffles
Ingredients
5 ounce bittersweet chocolate (60% to 70% cocoa butter), chopped
5 ounce semisweet chocolate, chopped
½ cup finely crushed gingersnaps
1 3 ounce package cream cheese, softened
⅓ cup canned pumpkin
1 tablespoon powdered sugar
½ teaspoon finely shredded orange peel
⅛ teaspoon ground cinnamon
Dash kosher salt
1 tablespoon unsweetened cocoa powder or finely crushed gingersnaps
Directions
In a small bowl combine bittersweet chocolate and semisweet chocolate. In a small saucepan cook and stir 1/2 cup of the chocolate mixture over medium-low heat until melted and smooth. Transfer to a medium bowl. Stir in 1/2 cup crushed gingersnaps, cream cheese, pumpkin, powdered sugar, orange peel, cinnamon, and salt. Cover and chill about 1 1/2 hours or until firm. Divide mixture into 30 portions, using about 1 rounded teaspoon for each; shape each portion into a ball. Freeze for 15 minutes.
Meanwhile, line a baking sheet with waxed paper or parchment paper; set aside. In a medium saucepan cook and stir the remaining chocolate mixture over medium-low heat until melted and smooth.
Using a fork, dip frozen balls, one at a time, into melted chocolate and place on the prepared baking sheet.* Sprinkle with cocoa powder. Chill for at least 30 minutes before serving.
*Tip:
The melted chocolate may start to harden slightly while dipping the truffles. To keep the chocolate easy to work with, reheat occasionally over medium-low heat so it stays melted and smooth.
To Store:
Layer truffles between sheets of waxed paper in an airtight container; cover. Store in the refrigerator for up to 3 days.
---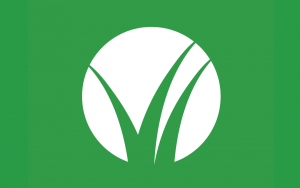 Prescott, Arizona, is a beautiful town to spend the fall season. The leaves are changing colors, the weather is perfect for outdoor activities, and plenty of fun events are happening throughout the month. If you're looking for things to do this fall or want to learn more about what Prescott offers, give us a call. We can tell you all about the great restaurants, hiking trails, and festivals happening in our neck of the woods as well as show you houses available for sale! We hope you get a chance to visit us soon!  (928) 443-8800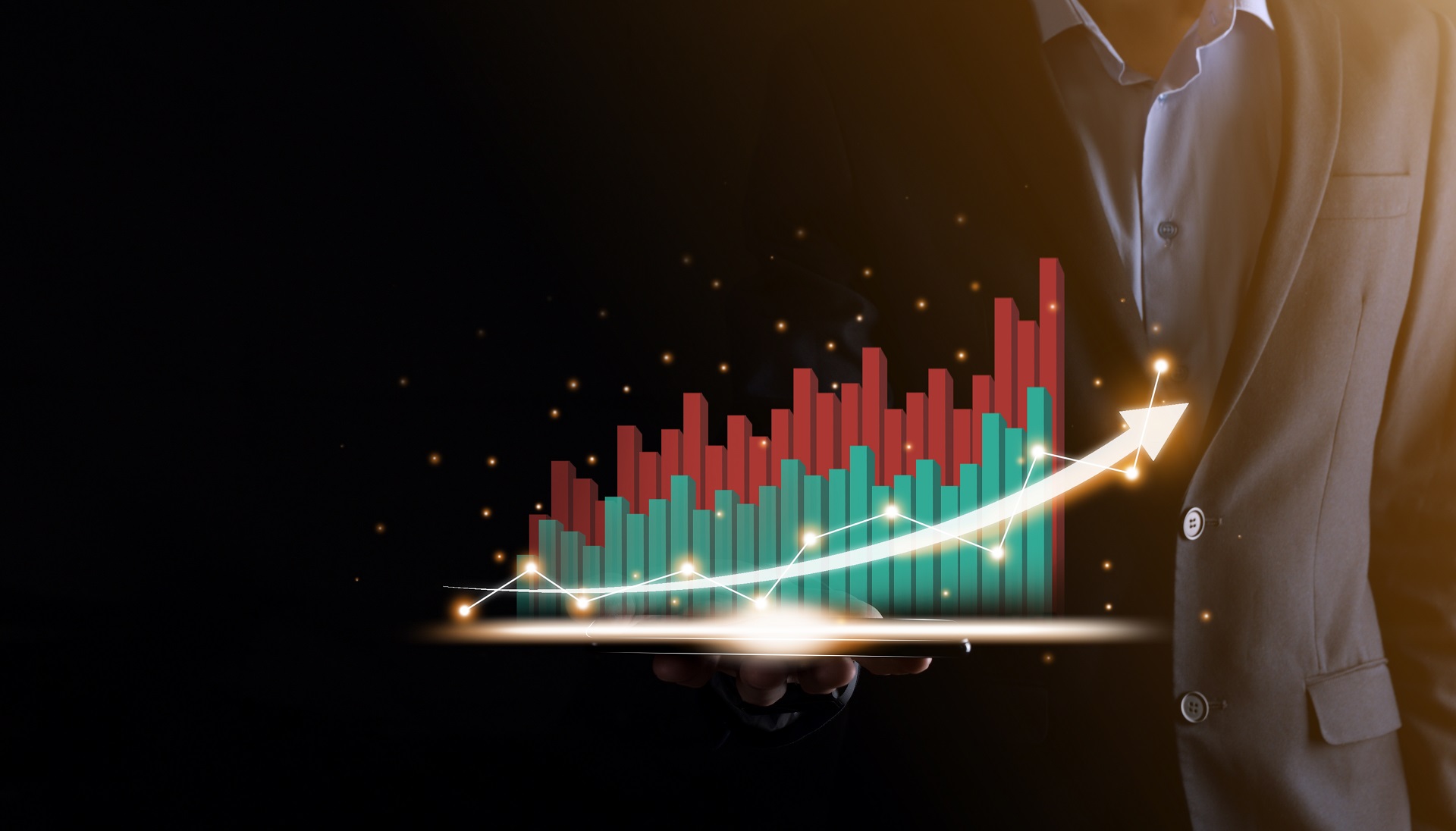 Comparing Real Estate Market
According to recently published statistics from the Prescott Area Association of Realtors, the area real estate market remained reasonably strong in August of 2022 versus August of 2021 but there are signs of weakness.
For the entire market area, the sold median price versus a year ago is up7.4% from $437,500 to $470,000. The median days on the market went up from 11 in August of 2021 to 33 in August of 2022. By most measures, that would still qualify as a Sellers' market, but the trend does seem to be heading to a more balanced market. However, for the same period, total sales went down from 436 to 321, a negative 26.4%.
Prescott's total sales went down from 193 in August of 2021 to 145 in August of 2022, a 24.9% decline and the median sold price went down 9.3% from $600,000 in August of 2021 to $544,000 in August of 2022.
Prescott Valley had similar results with a reduction in total sales of 31.5%, down from 111 in August of 2021 to 76 in 2022. However, the median price increased from $405,000 to $433,250 for the same period.
Chino Valley experienced what is probably the biggest drop across the board year over year. Total sales dropped from 62 in August of 2021 to 30 in August of 2022, a whopping 51.6% reduction. At the same time, the median price went down from $388,000 to $365,000 for the same period which is a reduction of 5.9%.
The Dewey- Humbolt area seems to have fared better during this same period with total sales increasing from 29 in August of 2021 to 36 in August of 2022, an increase of 24.1% countering the trend in the rest of the market area. The median price also increased from $415,000 to $446,250 for the same period showing strength in price appreciation of 7.5% which is market leading performance.
Although days on market for the entire market area has increased about 200% from 11 to 33 days in August of 2022 over August of 2021, this statistic would still be considered a Seller's market.
Is it still a good time to sell? I would say yes because prices have held fairly well, and days on market is still fairly low. Is it a good time to buy? I would say yes because prices have abated somewhat, and interest rates are still relatively low, but they could go much higher before the economic turmoil we are experiencing now is over. Also, the total inventory of homes is up about double for the market area compared to a year ago which makes the possibility of finding the right home much higher.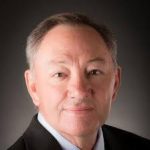 Nick Malouff is the CEO and co-owner of Better Homes and Gardens Real Estate BloomTree Realty with offices in Prescott, Prescott Valley, and Cottonwood . To reach Nick or a highly qualified agent, please call 928-925-2023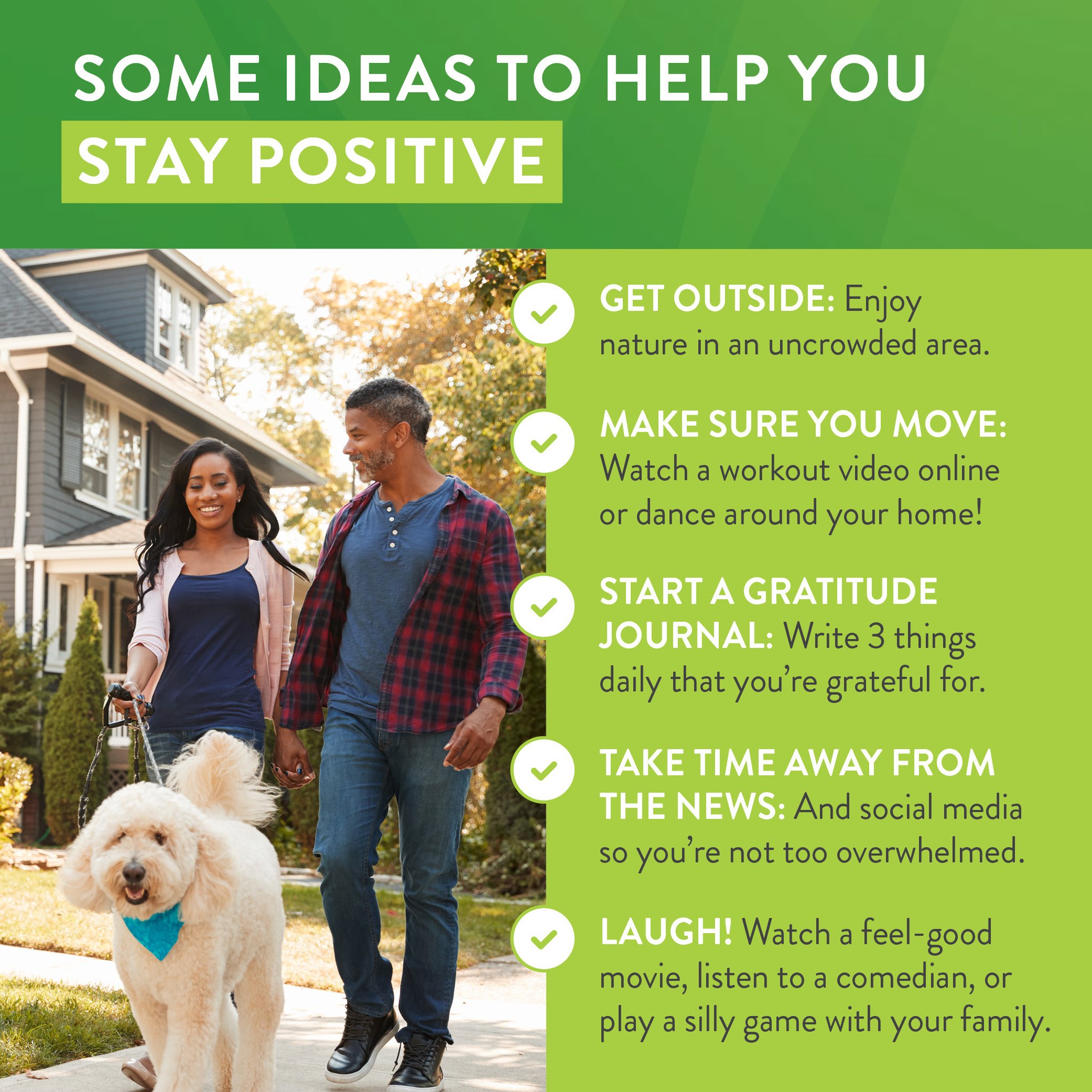 Fall is here! Bring out the Pumpkin Spice Lattes, cozy sweaters, and colorful leaves! This is one of our favorite seasons here at the office!
However, with Fall here, days are beginning to get shorter, vacations are nearing their end, and normalcy is picking back up. So, we've compiled a few ideas to stay positive and push away "winter blues."
Get Outside
One of the best ways to fight the winter blues is by getting outside! Soak up the sun! With our area's moderate temperatures, hiking, biking, and walking are all great exercises while enjoying the outdoors.
Here are a few moderate to challenging hikes in the Prescott area:
Thumb Butte:  At an elevation of over 6,318 feet, Thumb Butte is one of the most popular trails in Prescott.
Granite Mountain Trail #261: This moderate to challenging 7+ mile hike will take you through some of Prescott's most scenic terrain.
Iron King Trail: This 4-mile hike in Prescott Valley, AZ, is considered easy to moderate in difficulty.
Peavine Trail: Located in Prescott Valley, AZ, the Peavine is a 6-mile hike with breathtaking views of Watson Lake and the Granite Dells. The trail is considered easy to moderate, with a few challenging sections.
Make Sure You Move
If you can't get outside to exercise, that's okay! Just make sure you're moving your body in some way every day. Watch a workout video online, or dance around your house! Anything to get your heart rate up.
Start a Gratitude Journal
One way to keep your spirits up is by practicing gratitude. It can be anything from your bed, to your cat, to a great cup of coffee. Every day, write down 3-5 things you're grateful for in a journal. Not only will this make you more mindful of the positive things in your life, but it will also help train your brain to focus on the good instead of the bad.
Take Time Away from the News
It's easy to get bogged down by the negativity in the news. If you're feeling extra stressed or anxious, take a break! This may include taking a break from social media, news sites, or anything else causing you anxiety.
Connect With Friends and Family
Connecting with loved ones is one of the best ways to fight the winter blues. Whether you're catching up on the phone, meeting up for coffee, or sending a handwritten letter, taking the time to connect with those you care about will help boost your mood and remind you that you're not alone.
Laugh
Laughter really is the best medicine. Whether watching a funny movie, reading a hilarious book, or spending time with friends and family, laughter can help reduce stress, ease anxiety, and boost your mood.
What are some of your favorite ways to stay positive during the fall and winter months? Please share them with us!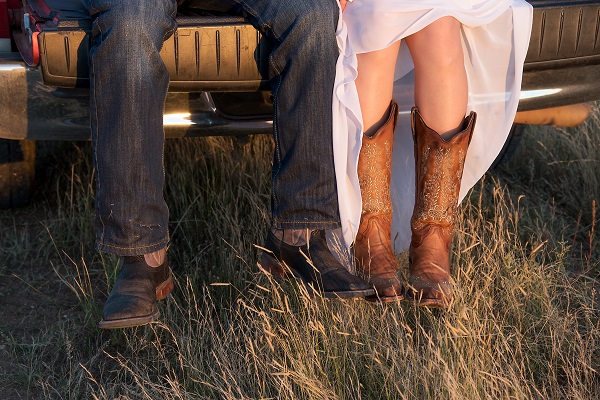 Tips For Finding a Wedding Venue
If you're in the process of selecting a wedding venue, you know how challenging it can be. There are many factors to consider, from price and capacity to location and amenities. It's essential to take your time and choose a venue that will meet all of your needs and expectations.
To help you out, we've compiled a list of the top 5 things you should look for in a wedding venue:
Price and capacity. Make sure you choose a venue that fits your budget and can accommodate all of your guests.
Location. You'll want to choose a centrally located venue and easy to get to for all of your guests.
Amenities. Does the venue have everything you need? Ensure they have adequate parking, a good sound system, and enough space for your guests.
Ambiance. You want your guests to feel comfortable and relaxed at your wedding, so make sure you choose a venue with a pleasant atmosphere.
Customer Service. Last but not least, you'll want to choose a venue with knowledgeable and helpful staff. They should be able to answer all of your questions and make sure your wedding day goes off without a hitch.
Beautiful Wedding Venues in Prescott
There are several options if you are looking for a wedding venue in Prescott. We have compiled a list of venues and provided information from their websites to help you see some of the options for wedding venues in the Prescott, Arizona, area.

Windmill House, Chino Valley
Windmill House is the vision of Joe Cordovana. JC came to America from Sicily, Italy, in the late '60s and found himself in the area of Prescott, Arizona, in the early 1970s. Around that same time, he found and purchased the 160 acres of land which would become the JC Ranch and home of the Windmill House in Chino Valley.
Windmill House is Northern Arizona's premier, one-of-a-kind event venue and wedding venue. While we host unbelievable weddings, we also host unforgettable receptions, parties, and business luncheons.
The Windmill House
1460 West Road 4 North
Chino Valley, Arizona 86323
928.636.1700
WindmillHouseaz.com
---
Mortimer Farms
Mortimer Farms is truly a one-of-a-kind venue for a wedding, anniversary party, reunion, corporate function, or birthday celebration. Surrounded by acres of sweet corn, pumpkins, gardens, flowers, strawberries, and shade trees, The Venues at Mortimer Farms are the perfect setting!
Pick The Grove, The Barn, The Campfires, or The Farm Park as the perfect setting for your event! You will find yourself amongst the gorgeous growing fields and large picturesque trees in all locations!
Mortimer Farms
12907 E. State Route 169
Dewey, AZ 86327
928.830.1116
MortimerFarmsaz.com
---
Willow Creek Inn
The Willow Creek Inn is a beautiful historic Victorian manor built in 1877. It was previously located in the heart of downtown Prescott and was used for various things, from a Church to a rumored bordello! In 1962 it was taken apart in 2 pieces and moved to its current location at 2516 Willow Creek Rd and was reassembled. In July of 2021, it was purchased by Nancy Bewley, who saw the beauty within and transformed the house into a breathtaking boutique event venue for all types of gatherings.
Willow Creek Inn
928.248.2314
willowcreekinn2021@gmail.com
WillowCreekInn.info
---
Grand Highland Hotel
From an intimate celebration to a glittering wedding, the Grand Highland Hotel (GHH) is the perfect setting for the wedding of your dreams. The hotel is a true icon of Prescott, AZ history in Downtown Historic Whiskey Row.
Choose from fabulous settings, amenities, and services for every part of your wedding. The Holiday Venues at the Grand Highland Hotel are an ideal place for the rehearsal dinner, ceremony, reception, honeymoon, and rooms for guests — we include packages that offer the special
details you're looking for with your ceremony and wedding party getaway.
​
At the GHH we pride ourselves in allowing you to make your own choices around the handcrafted cocktails and delectable food you would like for your day. That's why we decided to allow outside caterers and vendors.
Grand Highland Hotel
928.224.2746
​154 S. Montezuma
Prescott, AZ 86303
info@grandhighlandhotel.com
​GrandHighlandHotel.com
---
Hassayampa Hotel
Elegant, refined, and sumptuously beautiful, the event facilities at the Hassayampa Inn add a touch of Old World charm to any gathering.
In the heart of historic downtown Prescott, AZ, we offer more than 12,000 square feet for meetings and weddings featuring indoor and outdoor settings. The staff at the Hassayampa Inn has the expertise to ensure your event will be exactly how you envision it, whether you are planning a social occasion, business meeting, or your next conference. Declare your love in an enchanting, white-washed gazebo, and then watch the desert sun melt into the horizon during your rooftop reception. The stained-glass opulence of our Arizona Ballroom also makes it an elegant wedding venue.
Hassayampa Inn
​122 E Gurley St, Prescott, AZ 86301-3899
928.778.9434 • 1.800.322.1927
​reservations@hassayampainn.com
HassayampaInn.com
---
BloomTree Realty Can Help
If you want to relocate or make changes to your current home in the Prescott area, the agents at BloomTree Realty can help you! Call the office at 928.443.8000 to get more information about Prescott area real estate.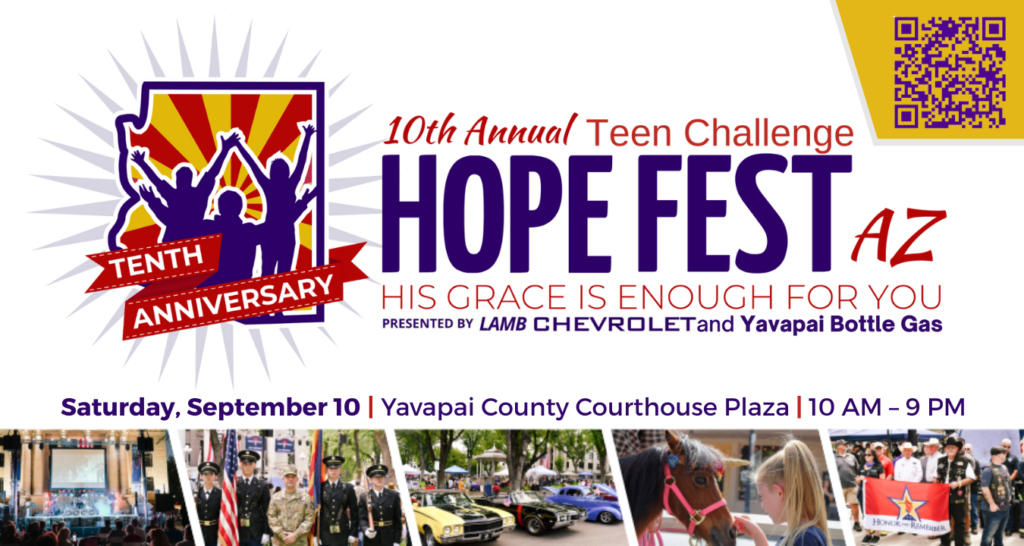 HOPE Lands at Courthouse
HOPE FEST Arizona 2022 is just around the corner! The 10th Annual HOPE FEST happens on Saturday, September 10th, at the Yavapai County Courthouse in historic downtown Prescott. Prescott's beautiful Yavapai County Courthouse Plaza will come alive with music, guest speakers, FREE amusements in the Family Fun Zone, and a bright-n-shiny Car & Motorcycle Show! Plus, there will be many connections and community services as part of the HOPE Serves Family Resource Fair.
The event runs from 10 am to 9 pm on Saturday, September 10th, with a special opening ceremony at noon. Some artists performing are Soggy Bottom Band, Susan Cheatham, Scally Brothers, Vanessa Horabuena, Right Scepter, and Building 429.
About HOPE FEST
HOPE FEST AZ was founded in 2011 as a community service outreach of Celebrate Recovery to take CR to the streets to offer people HOPE and LOVE. Our passion is to share that true freedom IS possible from all hurts, habits, and hang-ups – addictions, anger, fear, pride – all forms of brokenness. The event has grown to include many of our area's excellent resources, connections, and service providers — civic, government, business, and faith. Everyone is welcome to receive services, get involved and attend!
Our mission is to serve: Veterans, Active Military, First Responders, their Families, and the Vulnerable of Yavapai County through the HOPE Serves Family Resource Fair.
Our objective is to unite, mobilize and serve by connecting people to solutions in the areas of: Education, Housing, Recovery, Domestic Violence, Suicide Prevention, Mental, Social & Health Care, Family Support, Veteran & First Responder Family Services, Youth Advocacy, Adoption, Foster & Elder Care, Employment Services, Volunteering Opportunities, and many more change-driven resources!
Last year, over 120 service organizations and 100+ volunteers served thousands on the beautiful outside park setting of the Square – our volunteers are the heart, hands and feet of compassion, love & mercy – Passion in Action.
In addition to the Resource Fair there are tons of things for every family to enjoy – the special Opening Ceremony at noon, three streets full of the Car & Motorcycle Show, the Family FUN Zone, Local & National Music Artists and Speakers, LIVE Speed Painter/Artist Vanessa, the Fostering Hope Award and much more — FREE fun for the entire family.
Please visit HopeFestAZ.com to learn more and get involved with the 10th Annual Hope Fest Arizona.
NOTE: HOPE FEST Arizona is a 501(c)3 nonprofit organization managed by a 100% all-volunteer staff financed entirely through donor, corporate sponsor, and trade relationships – working together to impact the lives of our neighbors! The donations & funds raised go toward services, the Fostering Hope Award, and bringing a prominent music artist to Prescott.
Source: HOPE Fest Facebook Page